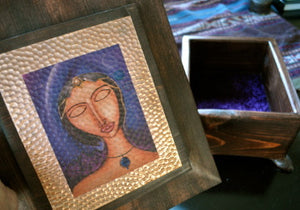 Lady Lumere
Wood Altar Box Lined in Purple Velvet Topped with 5x7 Lady Lumere on Copper.

Overall Size 11x14x7D

High Priestess of the Lumerian Dolphin Tribe, she dreams forth our remembrance of a time when we as magical, enlightened, playful and sensual beings had the ability of bringing the Divine good… Or God Goddess, out in one-another. Lady Lumere teaches us to swim in the waters of our mystical nature.