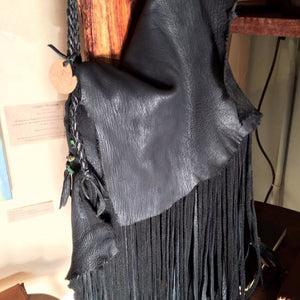 Black Beauty
This hand made elk leather fringe bag is exquisitely made in the native tradition in which the fringe is the actual stitching.  Beautiful, timeless and truly one-of-a-kind this bag has a round braid combined with leather strapping for the cross body shoulder strap.  Adorned with turquoise, and beautiful fringe.
Custom Made to order  - Allow 4 weeks 
These leather bags help us strengthen our connection to our own nature through the spirit of animals, plants and nature.