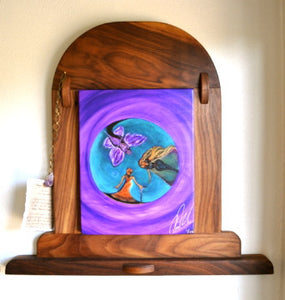 Beauty Power and Grace
11x14 Acrylic on Canvas, Signed Limited Edition Giclee in One-of-a-Kind Walnut.

Overall Size 24x26

Embodying the bounty of Goddess as Earthly Wisdom, these archetypes enchant and delight in their subtle reveal of Beauty, Power and Grace. Each one a master teacher in her own right, they are the daughters of our Earth Mother… Ma. Together they guide us into our inner wisdom through acts of self-initiation and self-love.